Scott's of Wisconsin Product Development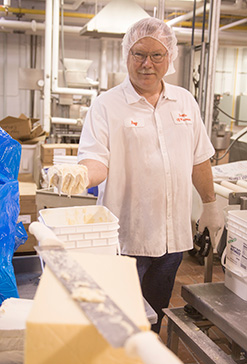 Our roster features more than 500 base recipes. At Scott's of Wisconsin we love creating new cheese tastes and flavor profiles. This is one area where our More to Love motto is really apparent; we are constantly giving you more flavors to love.
At Scott's of Wisconsin, producing a great flavor is much more than mixing ingredients. Our recipe creation process would not be as successful as it is without the research and development professionals on our staff that work to create phenomenal cheeses. We also rely heavily on our chemists and their backgrounds in Good Manufacturing Practices, HACCP and third party audits. It's with this team effort that we can be confident in our results. But we don't expect you to simply be satisfied with our confidence, we are state and federally inspected and certified by Covance.
Did you know that Scott's of Wisconsin brings all of the experience and skill of our team to you? It's true, if you're involved in our Custom Product Development, you get to work with us to create a delicious cheese that you can call your own. Whether you're working on a fundraising project, a restaurant looking for a signature blend or a retailer that wants something their competition doesn't have. When you partner with us to create a custom flavor you get all of our resources. We also have flexible production and run capabilities so we can accommodate the needs of both small specialty stores and large volume customers.
Let us show you what we mean when we say at Scott's of Wisconsin there's More to Love.