The Scott's of Wisconsin Cheese Facility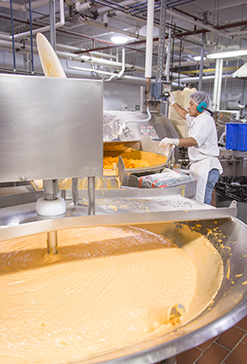 Scott's of Wisconsin means a lot of things to a lot of different people. To some we are a comfort food; to others we are a healthy, nutritious snack; for organizations we offer a fantastic, quality fundraising product; and retailers know they can count on our products to bring their customers back again, looking for our fresh Wisconsin cheeses.
With that in mind, our facility needs to be very diversified and capable of handling our products in a variety of ways. We put a lot of energy into developing a facility that gives you exactly what you want and that will serve our needs today and well into the future. Frankly, we are quite proud of the Scott's of Wisconsin Cheese Facility and we've listed just a few of the reasons why below.
We currently have multiple production lines and already have future plans for expansion in the works
Our automated filing, capping, labeling, date coding and case sealing systems are extremely accurate and efficient and insure you receive the highest quality cheese
Relying on universal container types and sizes make our facility run more smoothly, it also gives you an easy reference point to quickly identify our familiar dairy products.
Our portion packaging capabilities give us the flexibility we need to create our signature Scott's of Wisconsin and to make those custom orders you rely on
The level of efficiency, flexibility and high quality products that the Scott's of Wisconsin cheese facility produces is vital to our positive impact on the Wisconsin cheese industry and it is one of our top priorities.