Scott's of Wisconsin Cheese Spreads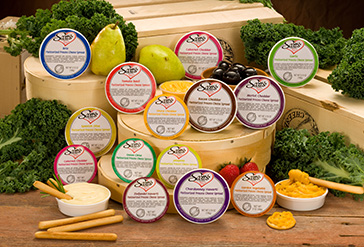 Scott's of Wisconsin has a cheese spread for every occasion and every palate. Our convenient sizes range from a 2 ounce snack size to a 3.75 ounce container with more than enough to share.
The list of our cheese spreads reads like a menu of the best cheeses and herb flavor combinations possible. Not only are these combinations fantastic on breads, cheeses and vegetables as a dip or spread but Scott's cheese spreads also give your recipes an added zing of flavor. Amplify any dish that calls for cheese by replacing plain cheese with one of our exciting flavored spreads.
Scott's of Wisconsin always aims to please the customer, to this end, we are able to adjust the size of our Cheese spreads to best suit your needs. We customize because it matters to you.
Havarti Dill
Tomato Basil
Onion Chive
Sharp Cheddar
Merlot Cheddar
Cabernet Cheddar
Garlic
Zinfandel Havarti
Chardonney Havarti
Brie
Camembert Cheese
Garden Vegetable
Habanero
Jalapeno
Zesty Cheddar
Spanish Olive
White Cheddar
Bacon Cheddar